Parliament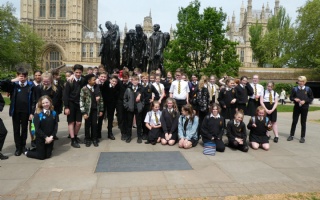 51 pupils visited Parliament yesterday (1st May) and met our local MP, Michael Tomlinson. He welcomed us to the Palace of Westminster and gave us a brief insight into his job as an MP. Unfortunately, he had to go to an important committee meeting, so couldn't spend long with us.
We then had a guided tour of The House of Commons and sat in the public gallery, listening to Jeremy Corbin discussing environment issues. Adults and pupils alike learnt about the workings of parliament and the history of the building.
Then we returned to the Education Centre and had a debate about reducing plastics and electric cars. All of the children were involved in the debates and contributed excellent ideas.