Streets Meadow Visit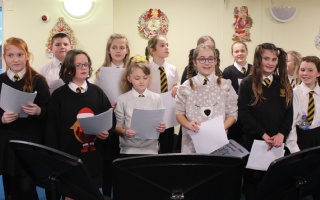 Allenbourn Choir & Folk Group visited Streets Meadow Care Home yesterday ...
The choir sang and the folk group played Christmas carols for the residents at our local care home. Led by Ms Taylor, our wonderful music teacher, the choir sang some popular carols that the residents could join in with. It was lovely to see the pleasure they brought to their audience. The staff thanked us for our visit and asked if we would visit again, as everyone enjoyed their performance. They rewarded us with squash and chocolates and lots of praise. Our pupils were a credit to the school. Well done Allenbourn.