The Butterflies are coming!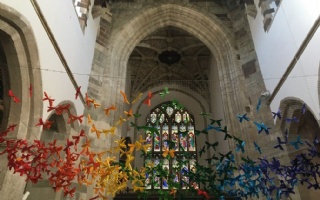 Allenbourn Middle school has been delighted to accept a 'commission' from the Minster to create a hanging installation to commemorate the 100 year anniversary of the end of the First World War.
Inspired by the origami doves which, earlier this year, fluttered in a wave along the length of the nave of Salisbury Cathedral, the subject lead for Art has designed an installation of butterflies in all the colours of the rainbow for the space above the newly cleared area at the west end of the Minster.
Why butterflies and why the rainbow? In an assembly which introduced the children to the project and invited them all to make a butterfly, ideas of metamorphosis, resurrection (what looks deader than a chrysalis pretending to be a winter leaf?) and new life were explored. The rainbow, too, is a symbol of new beginnings, reconciliation after conflict and hope for a better future. Peace, however, is notoriously fragile and needs to be nurtured. It starts and continues with each one of us and how we treat each other.
It has been very moving to welcome children into the art room or library each lunchtime over two weeks to make their butterflies. They begin by writing a personal message on the coloured paper before they fold it to form the butterfly. These hopes, wishes and prayers offer thoughts about the war in Syria and the many people injured, killed and displaced by it; gratitude for those who gave their lives in the two world wars; and commitment to respect, patience and tolerance in our school and homes and towards those who have different beliefs and customs to our own.
Those messages will not be visible as you look up at the colourful cloud of hundreds of butterflies, but they represent so many pauses in the busy school day where children in our community have chosen to turn aside and think of others. As such, these fragile paper sculptures are very precious.