Roche Court Sculpture Park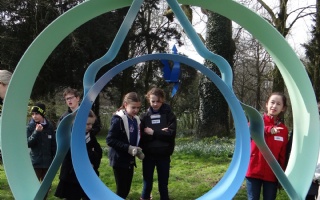 We had a beautifully sunny day for our annual trip to Roche Court and had a brilliant time. 41 pupils, from years 6,7 and 8, enjoyed and were intrigued by a wide variety of modern and contemporary sculptures, ranging from sculptures made from the traditional materials of marble and bronze, through abstract metallic pieces in bright colours, to work made using the latest 3D printing technology. The three group leaders from Roche Court were highly impressed not only by the exemplary behaviour of our students, but also by the depth and sophistication of their questions and answers.
We returned with a lovely set of drawings which will soon be on display in the school.
More photographs will appear in our gallery very soon.