Town Sports Athletics Success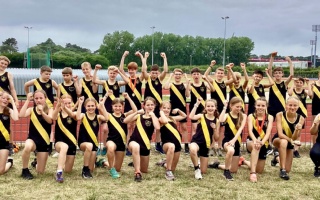 Congratulations to Year 7 pupils who took part in the PEDSSA Town Sports competition on 10th July.
We were able to take a large team, with nearly 30 pupils taking part, many of whom were selected due to their success in sports day or performances earlier this term. With a combination of newcomers and old hands at competing, we were hopeful we had our best team out for the day.
The Year 7 pupils had a fabulous day at Kings Park; running, jumping and throwing their best and supporting each other when not competing. With two pupils entered for each event and the opportunity to win double points if both came in the top 10, our team was incredibly successful. With lots of pupils gaining individual certificates for coming 1st, 2nd or 3rd and medals for the winners, we were hopeful we would do well. However, it was the exciting relays at the end of the day, where we won both the boys' and girls' races in emphatic style, with Elliott and Florence bringing their teams home in first place, that helped to seal the girls' victory and the boys' 2nd place.
Final results were:
Girls - First
Boys - Second
Overall, Year 7 Champions!
We are are so proud of you all and a great way to finish the Summer term!