Me and My Shadow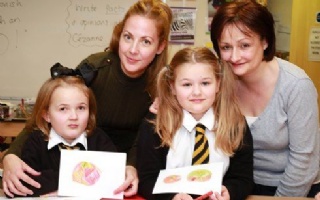 BACK TO SCHOOL: Parents were invited in to Allenbourn Middle School to join in lessons with their children.
Parents in one east Dorset community went back to school for the day.
Their return to the classroom was organised by their children's school, Allenbourn Middle in Wimborne.
They were invited to drop into the school, which is part of Wimborne Academy Trust, and see first-hand how their children are taught in a special Year 5 shadowing week.
Headteacher, Cindy Pritchard, explained: "This is the third time that we have held the Year 5 shadowing week for parents.
"They are invited to come in during that week and observe their children's lessons.
"We find this event gives our mums and dads a real insight into their child's learning as they immerse themselves into the lessons."
During the week, parents got to sit in a wide range of lessons, including maths, English, science, PE, French, technology, history, music, art and Geography.
Afterwards they were asked to leave feedback.
One parent wrote: "Impressive control of the class by teachers in both lessons. Good explanation of tasks given."
Another said: "It is great to see as a parent such a happy and integrated team in Allenbourn with the teachers and support staff working well together."
And one particularly impressed mum concluded: "Brilliant lessons, lots of different styles of learning observed.
"The level of parent engagement at the school is excellent and always appreciated."