Awash with the joys of the East Coast...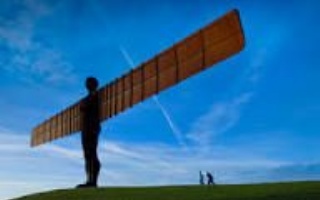 A Full English breakfast in York filled us for the days adventure that lay ahead. Bridlington and the lighthouse at Flamborough Head was where we hit the coast having traversed our way across the southern reaches of the North Yorkshire Moors.
A quick call in at the pottery in Hornsea, led us to the Humber Bridge and over what at one stage was the longest single span suspension bridge in the world and into the city of Hull. After a quick stop, we moved on into Lincolnshire and enjoyed an ice cream on the pier at Cleethorpes. We traveled along the coast through Mablethorpe and headed in land at Sutton on Sea. East Kirkby was our target and having visited the Railway Museum on Wednesday, it was the Aviation version yesterday. The
Second World War collection of Lancaster Bombers, Spitfires and Hurricanes sat against the more modern fighter jets was a really impressive sight.
Down the road to Boston for afternoon tea, and then across the Fens to Kings Lynn. As we headed up to the North Norfolk coast, we took the opportunity to take in another of the Royal Estates, Sandringham. From there, we made it to Hunstanton and with the setting sun at our backs, we ended the day as we started by heading due east along the coastline and finished the day in the traditional coastal town of Cromer.
As the last of the light faded away, we can now look forward to the the last big push over the next three days. With just over 500 miles to go, it is hoped that come Monday I will be able to report that we have completed our amazing journey around Britain and Ireland. I look forward to reading the many ways in which students, staff and families make the most of the weekends weather. Good luck and thank you for the efforts.
.