Back in to England....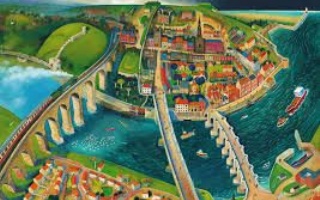 Back in to England....
A bright and crisp start to Wednesday morning and with the sun on our face, we headed east along the southern coastline of the Firth. On reaching North Berwick, we turned right and headed for the border.
Following on from the theme on Tuesday, we came across the three bridges of Berwick-Upon Tweed. This a delightful Walled town, but we had no time to stop as we continue to head south. The stunning sight of Lindisfarne, standing out like the set of a blockbuster movie was our next stop off and a late morning coffee was enjoyed whilst watching the tide come in and cover the causeway.
Thankfully there was no 'fog on the Tyne' as we headed the towards the Toon. Crossing the Big Bridge, into Gateshead we found the A1 and made it the Angel of the North for a late lunch.
The afternoon was spent cruising down to the historic city of York. A city where there is so much to enjoy from the Jorvik Viking Centre to the National Railway Museum. Strolling through the narrow streets including 'The Shambles', we found a nice place to enjoy and evening meal and plan our route for tomorrow.
Tomorrow's target is to reach Norfolk.