Farewell Aberdeen!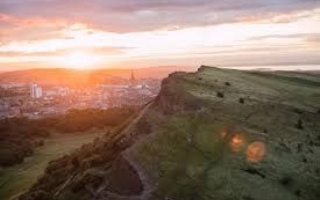 Our final full day in Scotland saw us depart Aberdeen and follow the coast south. It was to be a day of cities and bridges, with some history thrown in as well.
The first bridge of note to be crossed was the Tay Bridge into Dundee. Refreshed by a morning coffee and slice of the local cake, we proceeded down the coast to the home of golf, St Andrew's. A stroll down the 18th hole highlighted how the course is in the centre of the City and the University is another collection of impressive buildings.
After lunch, we continued on the road to Edinburgh, calling in on Auchtermuchty and then the battlefield at Bannockburn. The is the scene of Robert the Bruce's victory over the army of Edward the Second over 700 years ago.
Back on the bridge trail, we crossed the Kincardine Swing Bridge near Falkirk, before the dramatic crossing of the Firth of Forth via the road bridge. Looking across to the rail crossing, you can understand why it was considered one of the iconic visions of 19th Century engineering.
Our final night in Scotland, was spent in Edinburgh and we enjoyed a glorious sunset sat on Arthur's Seat overlooking the city.
Amazing to read of one of our Year 5 students who managed to ride 40 miles with their dad over the weekend.
Our target is to average approximately 200 miles a day for the rest of the week. That will get us back to Wimborne by sundown on Sunday.
Good luck today in dodging the showers!