Homeward bound!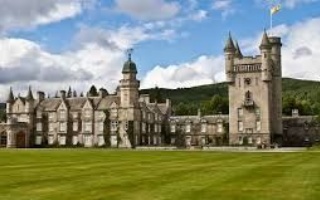 The long road home starts here...
Sat having breakfast in John O'Groats, all roads lead South.
One thing that has become really apparent in the last few days is how big Scotland actually is!! Another 200 miles covered on Monday, but still another day will be required until we cross the border.
Skibo Castle near Dornoch was the first of the stately homes that we came across on Monday morning. No time to rest, it was onto Colloden, venue of one of the most infamous Battles of the 18th Century.
Travelling on through the dramatic scenery of the Cairngorm Mountain Range, one can only imagine what a paradise it is for Winter sporting enthusiasts it is when the snow comes. Having come through Aviemore, the gateway to National Park, it is for the Royal residence of Balmoral that we headed for. It is easy to see why the Queen sees this place as a stunning retreat and an opportunity to escape from the hectic life of London.
From there, we headed back to the coast and our destination for the night, the Granite City, Aberdeen.
Sitting, staring out to the oil fields of the North Sea, it allowed time to reflect on the previous few days spent enjoying the wilderness of Highland Britain.
Next stop Edinburgh.