Sailing up the West Coast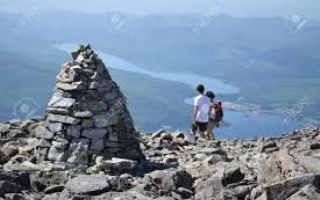 It's been a blustery weekend, but that has not stopped us getting nearly 500 miles covered.
Friday morning saw us leave Loch Lomond and head towards the foothills of Ben Nevis. First point of call was the Gruffalo Trail and then on to Ben Nevis. The trek to the summit of Ben Nevis is an arduous one, but happily the clouds parted and we got a stunning view at the top. Friday afternoon saw us descend from Britain's highest point and then travel to Loch Ness. A delightful evening was spent on the banks of the Loch, keeping an eye out for Nessie.
Saturday saw us travel along one of the most scenic stretches of road in Scotland. The journey from Inverness to Skye is just scintillating and one if travelled that will never be forgotten. The scenery, including cascades and waterfalls is awesome. At the end of the journey, we crossed the Kyle of Lochalsh over the Skye Bridge and spent the rest of the day exploring the Isle. It may take longer to get to than the sunny beaches of Spain, but I would recommend that the West coast of Scotland including Skye is put on a list of places to visit.
Our circuit completed, we returned to Inverness for the night.
If Saturday was a spectacular main course, then Sunday was a stunning dessert to complete the penultimate weekend of the challenge. On in to the Highlands, we passed the Munro's (mountains over 3000 feet) of Stack Poly, and Foinavon, went through a variety of villages and towns like Gairloch and reached Durness. Whilst John O'Groats is the famed North East tip of the British mainland, Cape Wrath situated near the remote town of Durness is the North West and is home to the coastal Smoo Caves.
Sunday evening; and it never seems to get dark at this time of the year along the northern coast, saw us reach our intended destination of John O' Groats.
We have just over 1300 miles left of our challenge and hope to get back to Wimborne sometime next Monday. Over the weekend, pupils of all year groups, their families and also the staff have all been involved, with every method movement from kayaking to pogo being used. Let's keep it up over the coming days.