Onwards from Gretna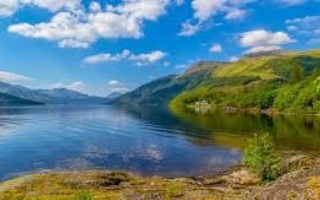 A day of very contrasting destinations to call in on.
Our Thursday morning started in Gretna and we have worked our way up the first part of the West Coast of Scotland. The 212 miles covered during the day has led us to call in on a wide variety of places.
The Cocoabean Company in the quintessential Scottish town of Kirkcudbright was our first port of call and after our early morning coffee, we headed for the coast and the Killantringan Lighthouse. One of our traditional style lighthouses, that sits proudly on a rocky headland.
Continuing North along the coast, we see the famous hotel at Turnberry and walk along the sea front at Troon. The tide is out and the sands stretch for miles. A perfect place to enjoy a lunchtime pasty, and watch the world go by.
From the coastal town, it's now on to Glasgow and the hustle and bustle of Scotland's second city. The grandiose older buildings sit perfectly among some of the more modern and contemporary architecture. After an afternoon in the city, it's back on the road and we head for our evening destination, the beautiful Loch Lomond.
Friday will see us taking on Britain's highest peak in Ben Nevis, so after a lovely walk along the banks of the Loch, it was time to rest up for the challenge ahead.
Thank you for all the efforts this week. It is nice to read that places like Badbury Rings are being visited for family walks and that mum's are carrying golf bags around for their children. Hopefully the weekend will stay dry and more miles will be covered, without families being tempted to spend too long in the re-opened cafes.