A weekend of Discovery!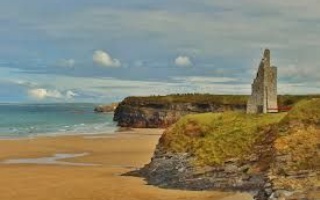 The exciting thing about taking on a challenge is coming across those unexpected treats and features that give you that unexpected wow moment.
Taking in the additional loop of Ireland, has certainly given us plenty of virtual highs and caused me to think that a trip to the Emerald Isle will definitely be on the agenda in the future.
Friday saw us depart from Waterford and continue to work our way South West. Calling in at Tipparary, in many ways to say, 'it's been a long way', we briefly stopped to look at the foreboding Cashel Castle. The next stop and tourist destination to tick off was the Blarney Stone. Friday afternoon was then spent on the rocky outcrops of the South West tip and some stunning views were enjoyed before we finally stopped for the evening overlooking the Ring of Kerry.
Saturday was a another day spent working up the west coast. The golfing 'heaven' of Balybunion was visited in the morning, lunch at Spanish Point and then the evening watching the sun set after a damp day at the Cliffs of Moher, before spending the night in Galway.
To end the week and after a hard slog on Saturday, Sunday was a calmer day. The tranquil site of Kylemore House was one of the stop off points during the day, before we once again were able to take in another iconic coastal feature at Downpatrick Head. Our final night in the Republic was spent in Sligo.
Monday will see us hopefully push on to Belfast.
Thank you for the efforts over the weekend, a stunning 700 miles has been covered across the last three days. This was a fantastic total, especially with the wet weather on Saturday. It was nice to read of some of the adventures that pupils and families have been on, including the Churchill's who discovered a tiny frog on their walk across Holt Heath.