Wonderful Wednesday!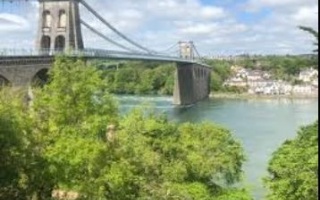 With the sunshine bursting through the curtains, we were up early on Wednesday morning and headed North up the Welsh coastline of Cardigan Bay.
It was nice to visit the town of Aberystwyth and spend some time at it's castle. We then kicked on along the stunning coastline taking in places like Bala and Porthmadog until we reached the foothills of Snowden. With the weather being so glorious, we decided to go up Crib Coch in order to take in the special views. Without a cloud in the sky, the views from the summit were stunning.
No time to rest, it was down on foot following the railway route and then off to the North West of Wales and Anglesey. Crossing the Menai Bridge on to the Island, you discover another one of those hidden gems of the British Isles.
Our final destination for the evening was Holyhead. A perfect place to sit and reflect on what has been a stunning first 5 days of the challenge. Our progress has been so amazing that we have decided to pop on a ferry at Holyhead and add the coastline of Ireland to our virtual tour. This will take our total journey over 5000 miles.
It has been lovely to read peoples comments about their activities, to hear about the bees buzzing and the beautiful flowers that are being seen on walks, runs and cycle rides. It would be nice to recognise some of the personal efforts of those taking part each day and whilst we have to conform with certain guidelines, please feel free to pop either a first name and initial or family surname in the comments section on the form. We will try to mention at least one person or family every day.
Thanks again for all the efforts and please take on plenty of water and wear sun cream if out and about today.